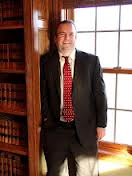 Missouri Attorney Dale Wiley had tried over a hundred civil and criminal cases before judges and juries, and served as President of the Missouri 39th Bar Association before forming Foreclosure Law LLC in 2010, and dedicating his practice to helping to protect the rights of homeowners at risk of foreclosure.
He is the epitome of what we need a lot more of in this country right now… highly experienced, smart lawyers who see what's going on and find themselves compelled to join the fight to stop foreclosures whenever possible. After you talk to him for a bit about the foreclosure crisis today, you come away thinking how great it would be to be able to clone him.
Dale Wiley graduated from the University of Missouri School of Law in 1998, and after graduation, he joined his father's firm, Wiley Law Office in Crane, Missouri where he practiced in the areas of criminal defense and personal injury.
Last modified on
Continue reading